'Just Bobby' by Bob Minkin Photography | Exam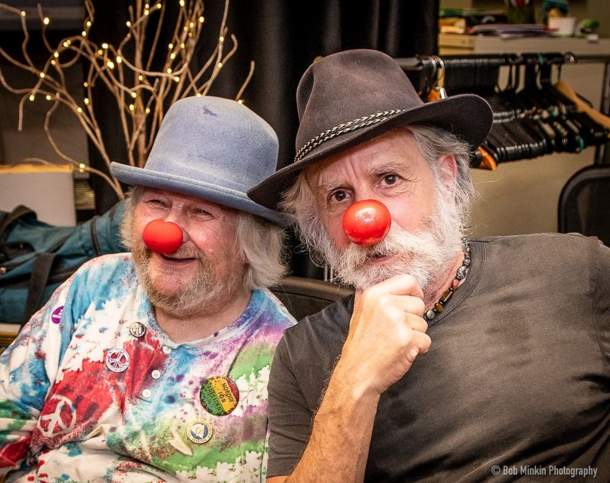 With a love for Grateful Dead and an impressive body of photographic work that has continued for nearly 50 years, Bob Minkin's new coffee table book, "Just Bobby," is a comprehensive and definitive compendium of Bob Weir imagery. A sequel to Minkin's popular "Just Jerry," a photographic profile of the Grateful Dead's Jerry Garcia, "Just Bobby" gives richly illustrated props specifically to Weir, who not only served as co-manager of the Grateful Dead for 30 years, but he has practiced his art in various musical ways since the end of this group in 1995. "The thing with Bob , is that it does not remain motionless; it always moves forward and is full of surprises," Minkin said.
This hardcover of just under 200 9 x 13 inch pages is presented to the viewer with the same dazzling gloss varnish on thick stock as Minkin's predecessors, "Live Dead", "The Music Never Stopped: Marin County's Music Scene," and the aforementioned "Just Jerry."
The book includes an introduction by Pete Sears, an introduction by Mickey Hart, "reflections" by Dennis McNally, and an essay by John "Stewball" Stewart. "Watching these pictures is so much fun for me," Mickey Hart wrote in the foreword to the book. "Minkin's lens allows me to see us grow over the years easily and clearly. I love the shots of us playing our songs, it's like a time capsule.
The photographer, whose first concert performance was Eric Clapton in 1974, and who took his first concert photos at a December 1975 Weir-directed Kingfish show at the Capitol Theater in Passaic, NJ, is a graduate of the New York School of Visual Arts who moved from his native Brooklyn, NY to Marin County, California in 1990. Minkin's lifelong love of music, acumen for photography and access that led to friendships and personal trust from Weir and other members of the music community. sparked the cozy intimacy that shows in the pictures.
"Just Bobby" is packed with crisp, archetypal footage of Weir playing with the Grateful Dead, The Dead, and Dead and Company, as well as representative footage of bands Weir has fronted over the years, including Bobby & the Midnites, RatDog, and Weir & Wolf Bros. There are even a few posed shots of Weir at home.
There are also commentary contributions from Jeff Chimenti (Weir's sideman for 25 years – and counting – in RatDog, The Other Ones, Furthur and Dead & Company), Barry Sless (David Nelson Band, Moonalice, Bobby Weir & Wolf Bros), Jeff Matson (Dark Star Orchestra, Donna Jean Godchaux Band, Zen Tricksters), Alex Jordan (Cubensis, Midnight North, Bay Area guitarist/keyboardist in general), Mark Karan (RatDog, The Other Ones, The Rock Collection), Nate LaPointe (Cubensis, Bobby Womack) and luthier Rich Hoeg.
But the most creditable element of the book is the "flying off the wall" aspect that the reader discovers in page after page of insider-only events and intimate backstage moments with many stars.
Special event photos include the Great Sixties Ball (May 1986 in New York) with Jessie Jackson, Abby Hoffman, Country Joe McDonald and Buffy Sainte-Marie; Weir and friends at the Gibson Guitars Centennial event (November 1994 in San Francisco) with Gregg Allman, Wavy Gravy and members of Hot Tuna; the Spencer Dryden Benefit (May 2004 in San Francisco) with Warren Haynes, David Nelson and Barry Sless; Chet Fest: A Tribute to Chet Helms (July 2005 in San Francisco) with Wavy Gravy, Mark Karan, Roger McNamee, Mickey Hart, David Nelson and Robin Sylvester; Deadheads for Obama press conference (February 2008 in San Francisco) with Phil Lesh; a benefit for Slide Ranch (October 2008, Sausalito, CA) with John Barlow; and "The Big Mix" (November 2012 in Mill Valley, CA) with Ray Manzarek and Michael McClure.
Other glimpses of the book behind the curtain include the San Francisco Giants' Grateful Dead Nights in August 2011, 2012, 2013, with Mickey Hart, Trixie Garcia, Bill Walton and Tim Flannery; Music Heals International Benefits (2013, 2015, 2021 in Mill Valley, CA) with Lukas Nelson and many others; sessions at Weir's Tamalpais Research Institute (TRI) studio in San Rafael, California, with a) The National, March 2012, b) Steve Kimock, January 2012, c) "Move Me Brightly: Celebrating Jerry Garcia's 70th Birthday", August 2012 with Lesh, Mike Gordon, Donna Jean Godchaux, Neal Casal, Joe Russo and Jim Lauderdale; and d) "Spillway here."
Longtime Grateful Dead publicist Dennis McNally on Weir, as featured in "Just Bobby": "I was watching a Dead & Co. show from Red Rocks," McNally wrote, "and Weir came out wearing a poncho , capri pants, socks and Birkenstock. I think there was a cowboy hat somewhere. I started thinking about a personality trait that kept Weir on his own path (fashion, music and life in general) over all these years: I call it the "I don't care" factor.
*Note/Warning: Writer Alan Sheckter and Bob Minkin have been friends since they met at a Grateful Dead concert in 1977.
For more information on "Just Bobby" and other Minkin items, visit https://minkinphotographystore.com.