Photo Today by Ted Grussing Photography: A Massive Bird – Sedona.Biz
…what a treat it was to find a pod of White Pelicans on Lake Roosevelt last week…they are massive with average weights in the 15-20 pound range and 30 pounds are not uncommon. The wingspan can be up to 10ft, so looking at the photo above, wingtip to wingtip is about two-thirds the length of my boat (14′). They take off with both webbed feet pushing as they descend the watery runway, reaching for the sky and they are great gliding machines too!
Below is the rest of the story or maybe the rest of the bird…an osprey taking off from some small branches and heading towards the lake…these are the feet I featured last night. Ospreys have a wingspan of five to six feet… wonderful creatures!
I haven't had much luck with espresso machines…the first was DOA and now the second is coming back…must have been a previous return as parts were missing and nothing works as expected. The third (a substantial upgrade of these two) will arrive on Thursday.
Awesome day today with lots accomplished and a late lunch with friends who flew to Sedona for a short visit. I spoke to Russ a few days ago and I think I'll catch up…more aerial photos I want in the wallet. If you ever want to learn to fly, Russ is your perfect partner at sky king in Payson, Arizona.
Another chance to fix everything tomorrow…have a great day and share the joy you find in life…lots to do.
Cheers,
Ted
I abandon myself to the thousand enchantments of the sky and the fields and the woods, and I play again like a child on the soft green of the earth. And as the God of the universe made you bloom with tenderness, so too my heart will soften and the gardens of my life will bloom again.
excerpt from A Prayer Of Summer, by Max Ehrmann
###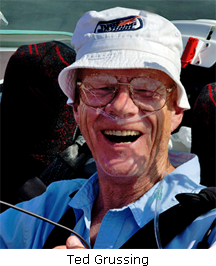 The easiest way to reach Mr. Grussing is by email: ted@tedgrussing.com
In addition to photography sales already taken Ted does special shots for clients on request and also does air to air photography for those who want pictures of their planes in flight. All special photography sessions are billed on an hourly basis.
Ted also runs one-on-one workshops for those who want to learn the techniques he uses. By special arrangement, Ted will run one-on-one aerial photography workshops which will include real photo shoots in the air.